Dreaming of living in Athens Greece? The Greek capital is one of the most interesting, cultured, and historical cities in all of Europe.

Every year, millions of people travel here on vacation to see world-famous sites such as the Acropolis, the Ancient Agora, and the Temple of Olympian Zeus, to sample sumptuous Greek food, and to use the city as a base to travel onwards to the Greek islands.
Athens is quite quirky-looking but what it lacks in beauty compared to places like Santorini or Mykonos, it more than makes up for in personality. If you have spent a few days embarking on an Athens itinerary and you are wondering what living in Athens is really like, you are not alone.

Many of those who come here on vacation dream of upping sticks and moving to Greece. But does the reality live up to the fantasy?

I lived in Athens from 2017-2021 before deciding to move to Mexico and live in Merida and wanted to provide some insight into expectations vs reality. Of course, I think that Athens is a fantastic city, otherwise I wouldnt have been living here for so long!

However, living somewhere permanently is very different from traveling somewhere on vacation. This post aims to give you some food for thought whether you are seriously considering relocating or you just wonder what it would be like to live in Greece.
Living in Athens
Living in Athens doesn't necessarily appeal to as many people as the concept of relocating to a Greek island. Athens doesn't possess the same beauty as, say, the Cyclades.  
Living in Athens means contending with the ongoing ramifications of the Greek crisis, and dealing with pollution, corruption, and congestion. The Greek way of life on the whole is typically more laid back than that in the west. But Athens certainly feels more "chaotic" than the islands.
What is living in Athens REALLY like? 
I didn't love Athens when I first arrived. I found it ugly and chaotic.
Honestly, the city took a really long time to grow on me. I still don't love Syntagma and the centre of Athens.
However, I moved to the cute and quirky neighbourhood of Pangrati. Arguably, this is one of the most artistic and charming of Athens' districts.
You are never short of activities and things to do in the city
A lot of people just spend one or two days in Athens checking out the most famous Athenian landmarks before they make their way to Piraeus and get a boat to the islands. That is not enough time. Seriously. 
You can spend years living in Athens and still constantly be finding new interesting things to see and do. Be it urban hikes around the city, fascinating museums and art galleries with ever-changing exhibitions, new restaurants with menu tastings, etc.

This is part of the joy of living in Athens. You will never be bored or short of things to do.

If you are interested in Greek history and culture, it will be a paradise for you as Athens is home to over 100 museums! Head to a different museum every weekend and it will still take you over a year to get to them all!
Love walking and hiking? There are not only tons of hiking trails in Greece, but many that do not necessitate even leaving the Athens city limits.

Within less than 40 minutes of departing downtown, you can find yourself in the abandoned mansions of northern Athens, at the adorable woodland Kaisariani monastery, or at Mount Immitou. Virtually every month, there is a different cultural event or festival going on. Athens has something for every interest.
Visiting famous ancient sites never gets old
When you live in a city, you behave very differently from when you visit as a tourist. Obviously, when you have been living in Athens for years and years, you don't visit the Acropolis every single week or have weekends of jam-packed sightseeing itineraries. 
But that being said, if you consider yourself a true Grecophile, you will never get bored of seeing certain sights. Even Athenians will meet up in Thissio on a Sunday afternoon, grab a takeout cup of coffee and meander along the cobbled streets of Apostolou Pavlou and Dionysiou Areopagitou.

Regardless of how many times you walk past the Odeon of Herodes Atticus, sit in the National Gardens, or gaze up at the Parthenon, it never feels boring or repetitive. I guess that is one of the most magical things about living in Athens.
Mentally prepare for dealing with Greek bureaucracy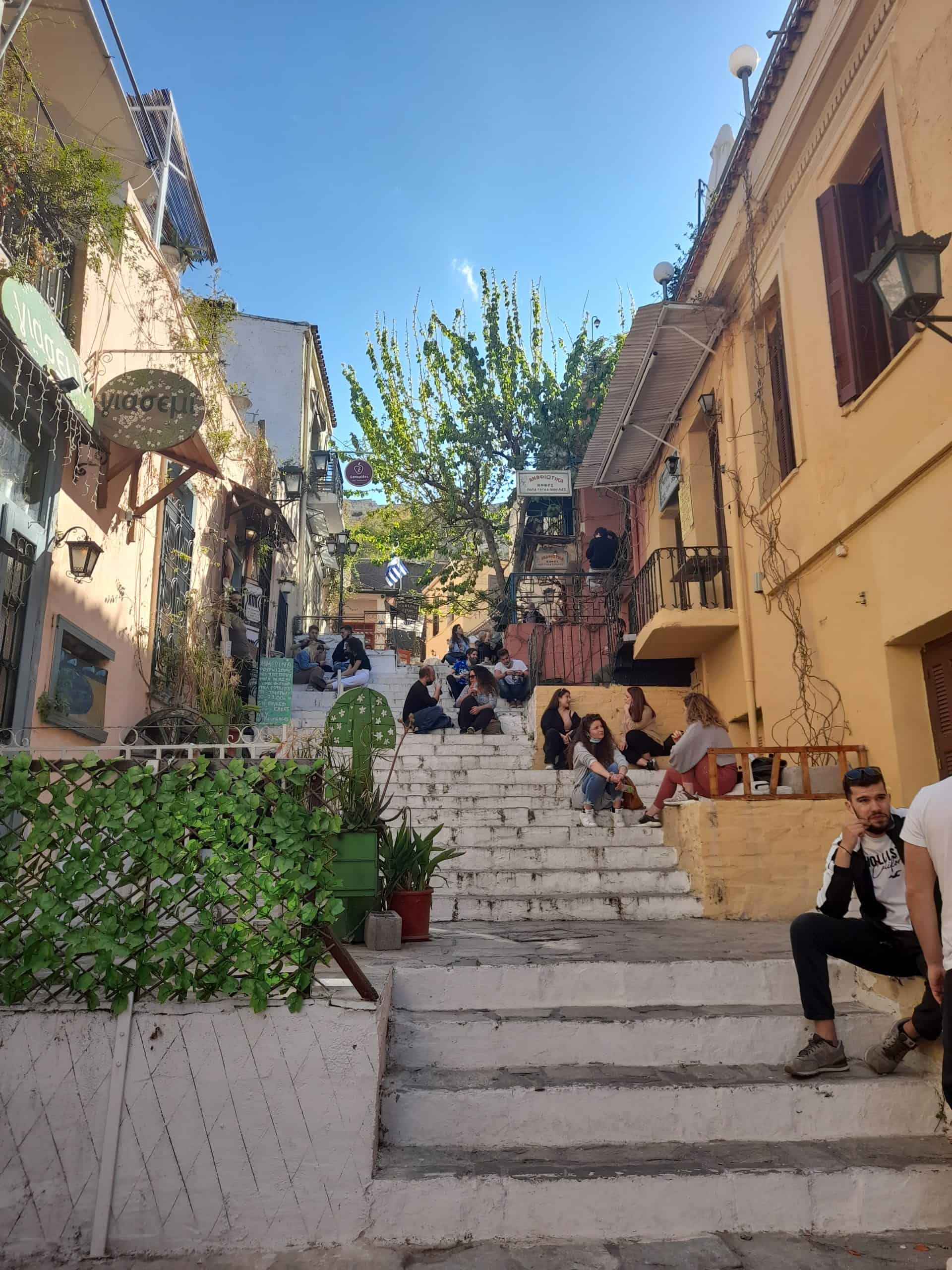 Ask any local or expat one of the most frustrating things about living in Athens and many will respond with the same thing: the bureaucracy and the red tape. This is something that you don't really notice as a visitor to the city but as someone who lives locally, it can become infuriating after a while.

Unfortunately, simple tasks are often made nightmarish by illogical processes and procedures. For instance, you may be trying to adopt a stray cat, register a new vehicle, or open a Greek bank account.

Mentally prepare yourself for mountains of paperwork, and being sent back and forth here, there, and everywhere across town to do the most simple things. Sometimes you need a lot of patience to live here.

When you first arrive, you may laugh it off as an endearing and chaotic aspect of life in Greece but as time goes on, you might find your patience running thing. There have been some reports of Greek bureaucracy at its finest in the national and local newspapers.

For instance, one renowned example is that of a man from Aigaleou who the Greek authorities accidentally documented as being dead. He has been trying to prove he is alive for the last 18 years! While that is an extreme case, it wouldn't happen in a country where bureaucracy was not an issue!
Athens can feel very transient 
Establishing a social circle is one of the most important aspects of settling into life in a new country. However, it can also be one of the most difficult.

Building relationships takes time. If you are someone that works from home or runs their own business, it requires a fair amount of effort on your part to keep going out to social events and meet-ups to try and meet people.

Platforms such as Internations, Meetup, and Couchsurfing are great for finding events that are going on in your area. If you are working remotely, you can also check out the various coworking spaces in Athens. 
You can also use Facebook groups catered towards people living in Athens and meet people that way. (Just post in one of the groups introducing yourself and saying what your interests are and you will no doubt find plenty of people who would love to grab coffee).

The only sad thing is that sometimes Athens can feel like a very transient place. A lot of people move to the country for the experience of living abroad before moving back to their home countries.

Many spend anywhere from 6 months to a year living in Athens working as an au pair, working at a call centre, etc. If you spend years living in the city, you will likely see a lot of people come and go and whereas at points you may find yourself with a wonderful international friend group, one by one, they may all leave.
This is arguably part and parcel of living in different countries. But if you are introverted it can be exhausting to keep putting yourself out there. 
Prepare for aspects of culture shock 
A lot of people, even Europeans, often overlook the possibility of experiencing culture shock when relocating to Southern Europe. But the reality is that living in Athens is a lot different from living in say, Oslo, London, or Edinburgh.
Greece on the whole is a lot more traditional than many other parts of Europe. The majority of people follow the Orthodox faith and older generations, in particular, can be quite religious.

Greece is also a very homogenous country and despite the ever-increasing amount of international people relocating to the country, Greeks stay true to their cultural roots. Obviously, you can never make bold sweeping statements about the entirety of a demographic or population.

However, you will absolutely meet the occasional people in Greece who are wary of outsiders, or older generations who absolutely do not want their children having long-term relationships or marriages with non-Greeks. This is something that happens more commonly in rural areas than in Athens. But it does happen and it is important to be aware of it nonetheless.

Similarly, there are many Greek men and women who believe in traditional gender roles. This can be to varying degrees. 
You adapt to living on a Mediterranean schedule 
If you are coming to Greece from a western country, you are probably used to a very different schedule and routine than what people follow in Greece. For instance, perhaps you wake up at around 7 or 8 am, have lunch around midday, and have dinner at 5 or 6 pm.

In Greece, lunchtime is at 3 or 4 pm and dinner can be as late as 10 or 11 o'clock at night. If it is a random weekday and you feel like eating a gyro in Athens at 1 am, you will still be able to find plenty of places open to satisfy your cravings.

Since Athens is a popular tourist destination, you will always find plenty of restaurants and takeout places open all through the day. So even if you want to stick to your midday lunches, you won't have difficulty finding service.

However, chances are, the longer you live in Athens, the more you find yourself shifting towards a Greek/Mediterranean dining schedule. You may even find that when you then travel to other countries, you are shocked by how ¨early¨ other people eat their dinner!
The city may not be beautiful but it has its charms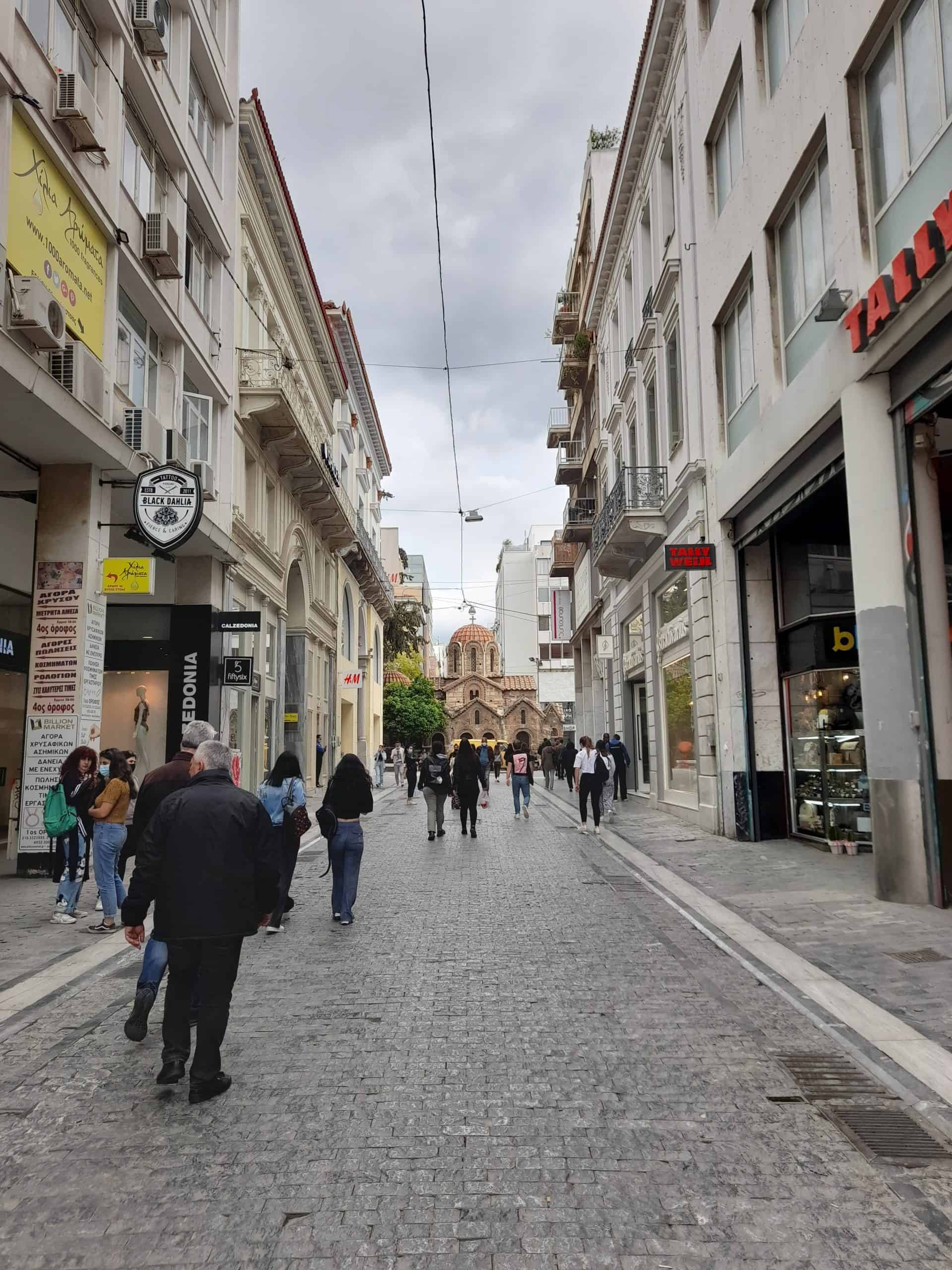 Athens is not a beautiful city. Far from it.
Family and friends that came to visit me while living in Athens were often shocked by how run down some parts of the city are. When you consider Greece's prominent role in history, you may expect to see a European capital filled with grand, ornate buildings.
This is not the case at all. But things haven't always been this way.
In the early part of the 20th century, Athens was a different city entirely. Gorgeous mansions ran along leafy promenades and opened out into charming piazzas.
Sadly, Greece had experienced many financial and housing problems long before the renowned economic crisis that started in 2009. The return of Greek refugees from Turkey, the Axis occupation, and the Greek civil war left Athens with an overcrowding issue.
A solution was identified to solve this housing crisis: Antiparochi. In the 1950s, many of Athens' elegant neoclassical mansions were knocked down to make space for apartment buildings.
If it looks like higgledypiggledy Athens was built in a hurry with no real city planning, that's because it was. Many of the buildings here do look depressing and rundown.
This is not helped by the fact that there are very few green spaces. Many of the sidewalks are in really bad condition, falling apart, and filled with potholes.
In some ways, this adds to the charm of Athens' gritty character. Sometimes the most questionable-looking unsuspecting streets open out into lovely piazzas lined with tavernas and teeming with life. But when you are met with these views day after day, it can feel quite claustrophobic.
Discovering Athens's different districts
One awesome thing about Athens that most short-term visitors miss. It isn't the Acropolis and the tourist sites that make it special; it's the distinctly different Athens neighborhoods, each with its own unique personality. 
For instance, quirky Koukaki, in the shadow of the Acropolis, is a former industrial district named after Greek businessman George Koukakis. As the businesses in the region closed down, the area received a huge overhaul in the 1980s and many of the industrial premises were converted into eclectic coffee shops, art galleries, and vintage clothing stores.
Koukaki started being nicknamed ¨Little Paris¨ and today, it is one of the most charming Athenian districts. Kolonaki, the ¨Beverly Hills of Athens¨ is equally wonderful in its own way and is best known for its chic restaurants and cocktail bars operated by award-winning mixologists.
The Athenian lifestyle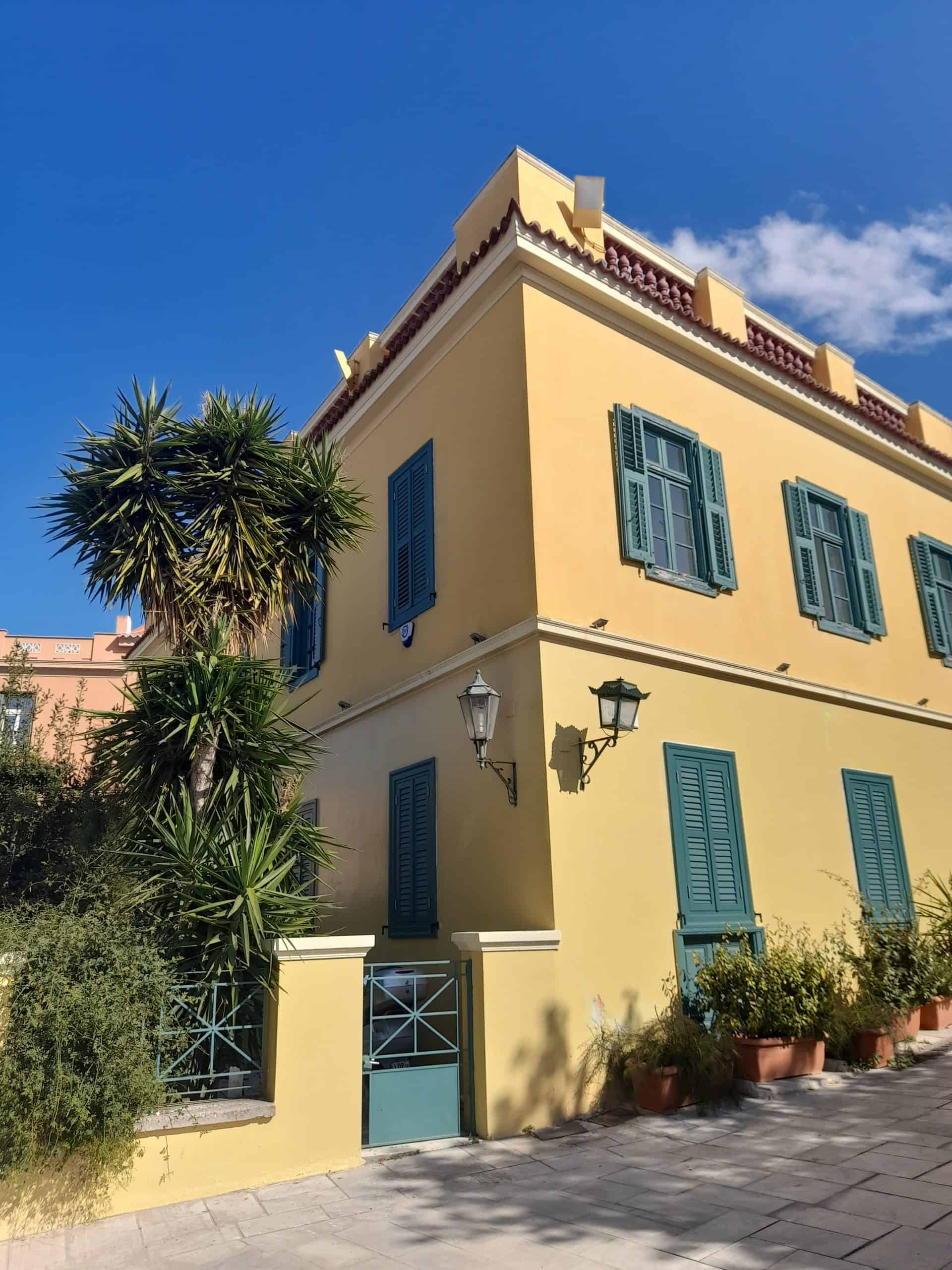 If there is one thing that you can credit to the Athenians, it's that they know how to live. Here you will find that there is more emphasis on happiness, family time, and quality of life than there is on material things.
This is a refreshing change from the mindset in many western countries. You can walk around Athens on any night of the week, often as late as 2-3 am, and often find that coffee shops, tavernas, and bars are still overflowing with people.
Athenians, and Greeks generally, make the most out of their free time. They don't simply "live for the weekend" like a lot of western cultures.
That being said, Greeks do work incredibly hard. Most people work long hours and tend to work six days of the week.
People envy the Mediterranean lifestyle and there is often a perception that people in Southern Europe are lazy or don't work often. This is far from the truth. They simply know how to make the most out of the free time that they do have.
The rising cost of living in Athens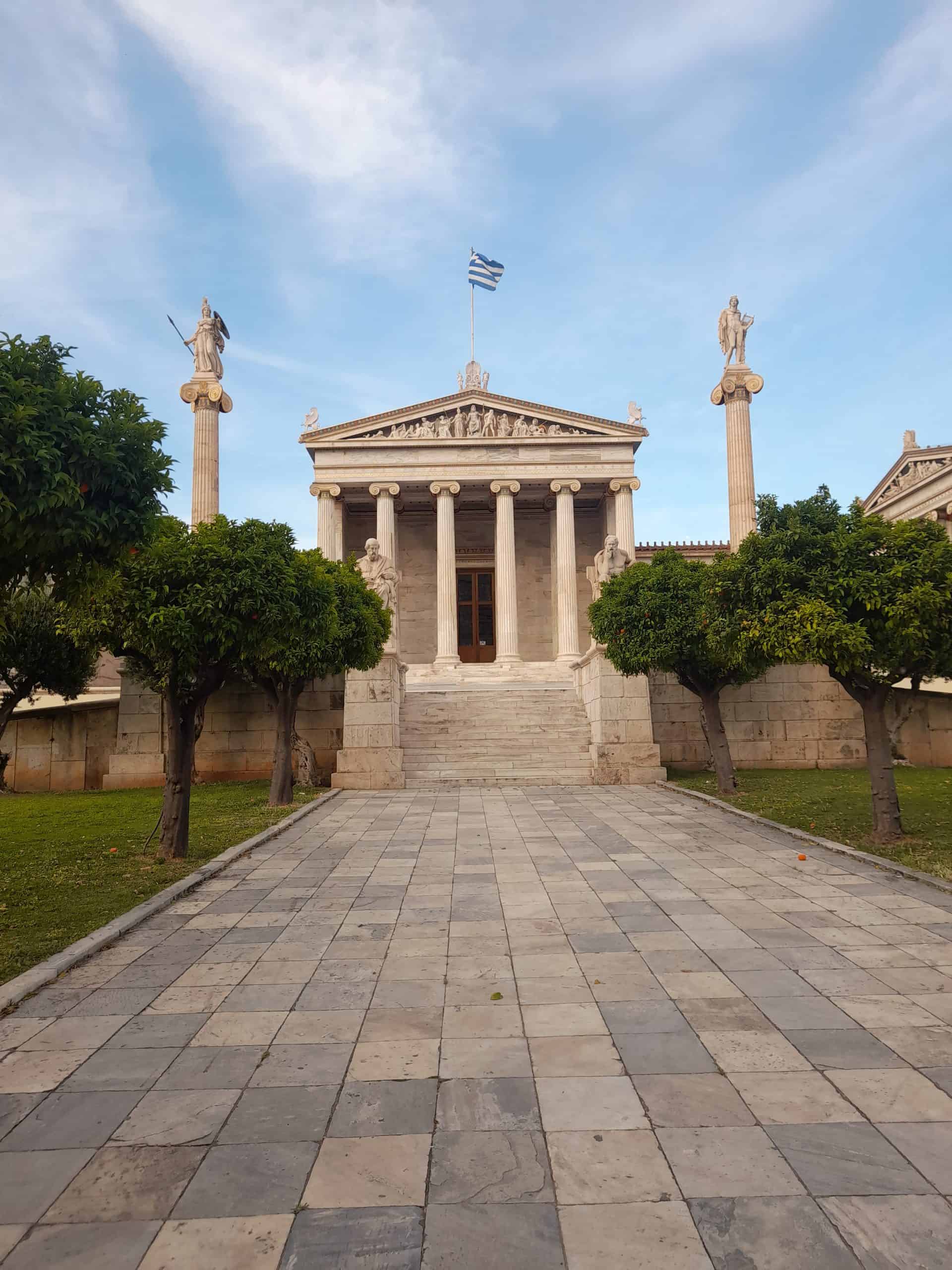 The cost of living in Athens continues to soar with each passing year. This, in part, is due to problems caused by Airbnb.
Several years back, it was estimated that the living costs in Athens were around 30% lower than in other European cities. While it may be true that Athens is still notably cheaper than say, Rome, or London, costs are on the rise.
The presence of short-term rental platforms like Airbnb has pushed the cost of living up and up and up. Now, Greeks cannot afford to live in their own Athens neighbourhoods.
In some districts, the cost of a studio apartment has soared from around €250 a month to over €500 in just a couple of years. This is not a marginal increase, particularly not in a country where the average monthly salary is between €500-€600 a month.
It is unfair for Greeks who are unable to find property, and it is unfair for foreigners who are perpetually overcharged and scammed. Again, this is not marginal. Foreigners are often quoted as much as 2-3 times as much as the going rate.
With Airbnb greed, and some assuming that foreigners will pay whatever because they do not know the correct prices, it is unlikely that this issue will go anywhere any time soon. Dealing with corruption and landlords is a major headache of living in Athens.
Exploring more of Greece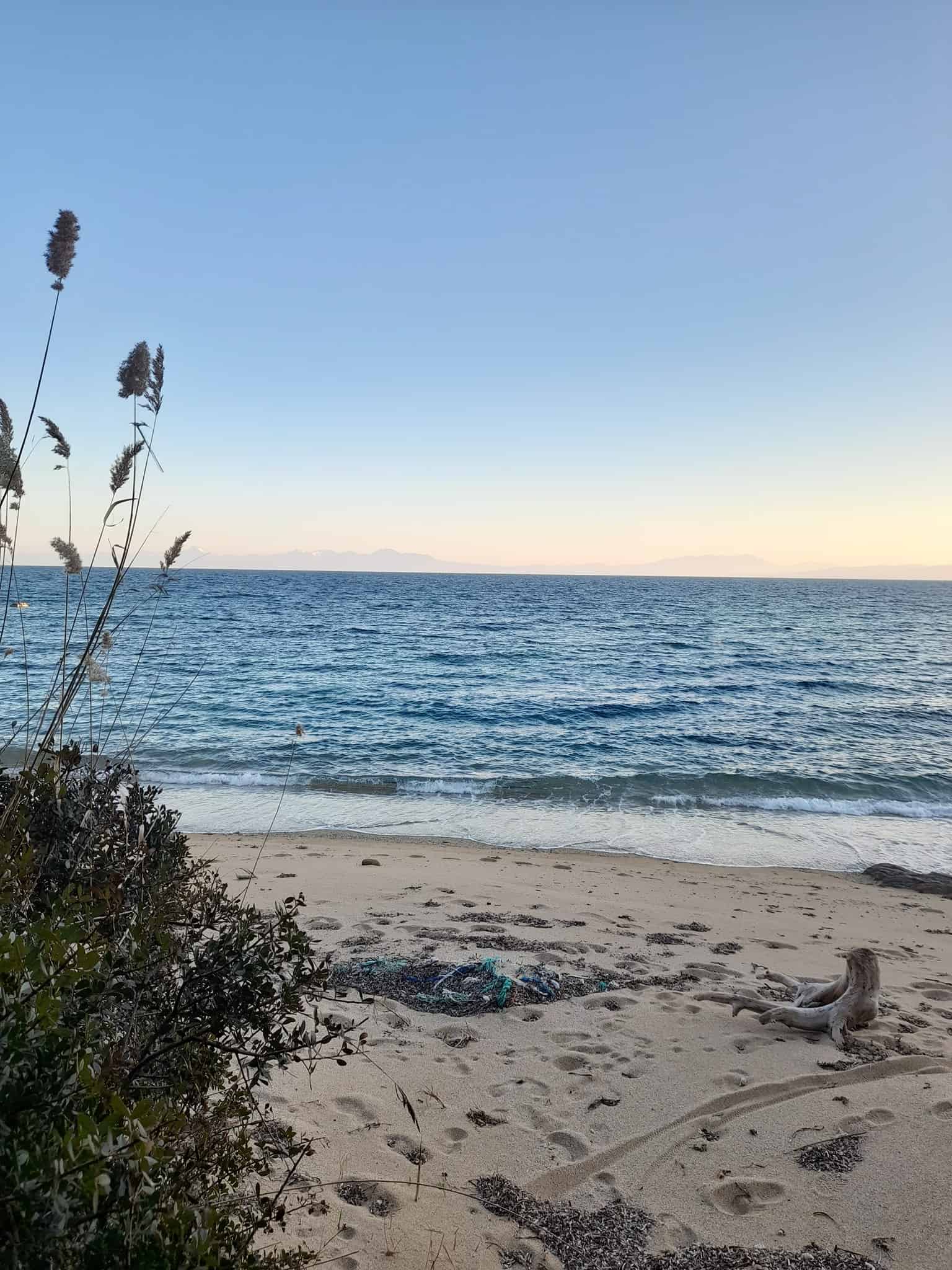 Living in Athens puts you in a great position for exploring more of Greece. Primarily, there are many great places that you can visit on a day trip from Athens.
For instance, the magnificent ancient city of Delphi, the beaches of Vouliagmeni, and the Temple of Poseidon at Sounion can all be visited in just one day during your weekends. There are also many islands close to Athens that make a perfect weekend break – most notably the Saronic islands and some of the Cyclades.
Athens is situated in the southern part of Greece, and the country is larger than you may first realise. However, public transport links in Greece are excellent, and getting around the country generally does not break the bank.
Even if you want to travel from Athens to places such as the Sporades or the Ionian islands which are further away, it is very easy to do so. Living in Athens means that you have a plethora of domestic travel options right on your doorstep.
Athens versus Thessaloniki
I have also based myself in Thessaloniki for several months at a time. This gave me the opportunity to take a lot of day trips from Thessaloniki – including charming villages in Halkidiki, like Nikiti.
As someone who prefers mountains and nature to beaches and islands, I felt an immediate affection for Northern Greece. This is the "Central Macedonia" region of Greece and I find the people to be much friendlier here – perhaps the nicest in Greece!
If you are torn between living in Athens or Thessaloniki, it is well worth basing yourself in both cities for a couple of weeks. Don't hesitate to give Thessaloniki a try! It may be lesser known on an international scale but it has plenty to offer.
Final Thoughts
Do you have any additional questions or concerns about living in Athens? Have you spent any time living in other parts of Greece or elsewhere in Europe?
Safe travels! Geia sou! Melissa xo
---