Greek pastries are a huge part of Greek food culture. They are not only a cheap and convenient on-the-go snack but are also often enjoyed as part of a hearty lunch. 
There are bakeries on virtually every street corner in Greece. If you wander through any Athenian neighbourhood in the early hours of the morning, you will smell the scent of freshly-made crisp phyllo pastry wafting through the narrow streets. 
There are also a diverse array of Greek pastries available. Some are national favourites and are available in virtually all parts of the country. 
Others stem from a specific region. For instance, the Epirus region of Greece which encapsulates Ioannina and Parga is known for its savoury pies. 
Virtually every food item you can think of is transformed into a "pite" in Epirus. You will find pumpkin pies, wild green pies, nettle pies, leek pies… (You get the picture).
Similarly, specific areas and even specific bakeries place their own spin on national classics. For instance, in Skopelos town, you can try the "Skopelos pie" – a regional twist on tiropita.
Greek Pastries – 10 Treats to Try in Greece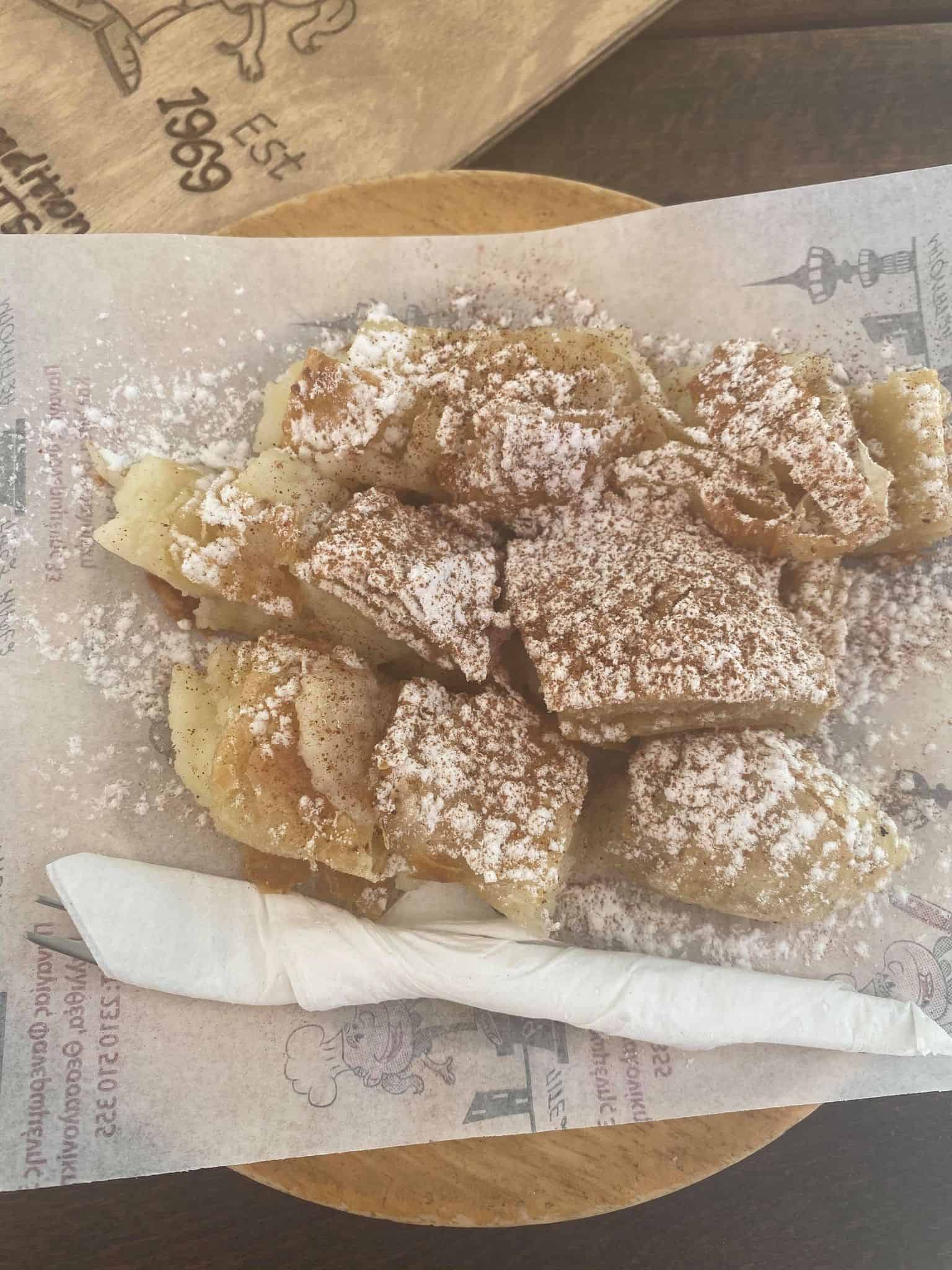 A selection of Greek pastries that you absolutely must try whilst in Greece is summarised below. There are several ways in which you can enjoy these treats. 
You can enjoy Greek pastries as you would any other Athens street food. For example, eat them on their own with a strong Greek coffee (perhaps a freddo espresso/cappuccino). 
They make a perfect addition to an al-fresco picnic in a Greek national park or somewhere like the Athens National Gardens! Alternatively, have them at home while they're warm with a hearty dollop of Greek yoghurt. 
Greek yoghurt is the perfect accompaniment to a savoury pie. Similarly, a Greek salad or just some greens and tomatoes make a nice pairing with Greek pastries. 
Tiropita 
Tiropita is a Greek cheese pie and it's one of the most common Greek pastries you will find. To create it, feta cheese is wrapped inside layers of handmade phyllo pastry. 
It's simple, yet delicious. Sometimes you will find that some bakeries offer their own alternative versions of tiropita using different types of cheese.
Spanakopita  
Spanakopita is similar to tiropita, yet it also sees the addition of spinach. Hearty servings of fresh green spinach are wrapped in filo dough and accompanied by a spritz of lemon juice and sometimes, dill.
You will find that not only is spanakopita served in bakeries, but it also makes a common appearance at breakfast buffets in Athens hotels. There are various theories and legends regarding the origins of these two pastries. 
Greek and Turkish cuisine share a lot of similarities. After all, Greece was under the control of the Ottoman Empire for centuries. 
The most common theory is that spanakopita originated 400 years or so ago. It is essentially the same as the Turkish "ispanaki". 
Bougatsa 
Bougatsa is a sweet Greek breakfast pastry. It has Byzantine roots and is believed to have been invented in Constantinople (now Istanbul) several hundred years ago before it fell to the Ottoman Empire.
Today, there are various versions of sweet and savoury bougatsa available. However, the most common is the sweet bougatsa which is made using semolina custard and brown sugar. 
You can find bougatsa all over Greece. However, it is more common in Northern Greece – specifically Thessaloniki and its surroundings. 
Bougatsa Bantis is a Thessaloniki institution and one spot in particular that you should have on your radar if you head to Greece's second city. It is located slightly on the outskirts of town at Panagias Faneromenis 33. 
The family-owned eatery has been operating since 1969. People have travelled across the world to specifically eat here and many Thessalonikians will agree, Bougatsa Bantis is the best place to try this specific Greek pastry. 
In Athens, head to Iroon Square in Psiri. If you are here early enough in the mornings, you will see local pastry chefs making bougatsa by hand and swirling sheets of dough above their heads. 
Galaktoboureko 
Galaktoboureko is a Greek dessert pastry that is often nicknamed "milk pie". It can be compared to bougatsa in terms of its flavour. However, consistency-wise, it is more creamy, squidgy and custard-like. 
Crispy, golden-brown phyllo pastry is cooked to perfection, doused with melted butter, filled with sweet custard, and drizzled with syrup. The sweet, sticky syrup is a mixture of honey, lemon, sugar, and cinnamon. 
Galaktoboureko is particularly popular in the Karpenisi/Evritania region of Central Greece. Palio Mikro Chorio village supposedly serves up some of the best galaktoboureko in the country. 
Diples 
Diples are a sweet Greek pastry that originated in the Peloponnese. While there are certainly places where you can purchase diples year-round (both in bakeries and Athenian restaurants as a dessert option), they are more common in the Greek winter months. 
If you stroll through the various neighbourhoods of Athens on the approach to Christmas, you will notice the scent of orange melomakarona cookies and syrupy diples. The notion of a Greek Christmas is synonymous with the idea of having some homemade diples at yiayia's place.
To make diples, first of all, the dough is prepared in a comparable way to say, pancakes. The name comes from the Greek word "fold". 
Once the dough has been made and rolled out, it is cut into rectangular pieces and rolled. Then, each one is dipped (or more accurately, smothered!) in syrup. 
Kataifi
Kataifi is one of the most popular sweet Greek pastries. It can be compared to baklava, and this treat is popular not only in Greece but in various other countries across Southern Europe and the Middle East. 
The dough for the dish is made using kataifi dough – a special form of shredded phyllo. The mixture is combined with chopped walnuts, cinnamon, and cloves. It is then drenched in sweet sugar syrup. 
Finished kataifi has a unique appearance somewhat reminiscent of shredded wheat. You will often see rows and rows of kataifi lined up alongside variations of baklava in certain Greek patisseries.
Skopelos Pie 
Skopelos pie is a version of tiropita that comes from Skopelos island. You will find it sold at various bakeries across the island – everywhere from the Chora and Glossa, to Neo Klima and Panormos.
So what differentiates Skopelos cheese pie from the standard Greek tiropita? One thing is the pie's appearance. Instead of being prepared in a rectangular tray and then served in square portions, Skopelos pie is prepared in a spiral shape that twists around like a coil.
All of the ingredients used to prepare Skopelos pies are as fresh as you can possibly get. Everything from the olive oil to the goat's cheese is sourced in the Sporades island group.  
Hortopita 
Hortopita is a savoury Greek pastry that is prepared with wild greens. It is not to be confused with spanakopita (spinach pie) but it is comparable in both texture and appearance. 
Greeks commonly make this in their homes. In rural areas, they will go out and pick the wild greens that grow around their village. 
Hortopita often sees a mishmash of wild green bundled together. It is basically made from anything edible that could be found in the village! 
Just like tiropita and spanakopita, hortopia is made by sandwiching filling between layers of phyllo pastry. Instead of feta cheese, it is typical to prepare hortopita with touloumotiri. 
This is a Greek cheese made from a combination of both sheep and goat milk. Parsley, dill, and fresh lemon juice are often added to the mixture for additional flavour. 
Kalitsounia 
Kalitsounia are very small, bite-sized cheese and herb Greek pastries that originate from Crete. Crete is the largest island in Greece and while it is still part of the same country, the culture and cuisine here do vary. 
You will typically only find Kalitsounia in Crete – in bakeries from Heraklion to Rethymno. They are usually made with fresh soft mizithra cheese. 
Sweet kalitsounia are common – mizithra cheese is paired with cinnamon and orange/lemon juices. It is also possible to find savoury variations with the addition of herbs.  
Kolokythopita
What is kolokythopita? Besides delicious? 
This is the Greek answer to pumpkin pie. Just late the infamous pumpkin lattes are the symbol of Autumn in the USA, Greek pumpkin pies have become more widely available throughout Greek bakeries and patisseries in the Greek Autumn and winter months.
Greek pumpkin pies are sweet, tasty and simple. The filling consists purely of pumpkin, cinnamon, rice, sugar, and olive oil. 
Parting Words
Do you have any additional questions about Greek pastries, or anything else related to planning your Greece vacation? Feel free to reach out below. I've been living in Greece since 2017 and I'm happy to assist with any questions you may have.
Safe travels! Geia sou, Melissa xo