Greek desserts do not always get the recognition that they deserve. Greece may be renowned for its savoury cuisine and its sumptuous marinated meats. However, its after-dinner sweets are just as wonderful. 
Most tavernas in Greece offer a dessert menu. Sometimes these can be limited in the options that they offer. 
Typically, you will find a lot of specialist stores that sell one type of dessert. For instance, loukoumades stores sell a number of varieties of Greek doughnuts, or gelaterias that sell fresh ice cream. 
Greek Desserts 
In many parts of the country, it is not uncommon to be given a free dessert at the end of your meal. This can be anything from spoon sweets to a homemade cake.
One thing is for certain, you should try and sample as many Greek desserts as you can during your Greece travel itinerary. Many of the puddings that you find here, you will not find anywhere else. 
Loukoumades
Loukoumades are essentially the Greek answer to the doughnut. These bite-sized little fried dough balls are similar in taste and consistency to their American counterparts. However they are often filled or topped with various creams and sauces. 
The typical way to create loukoumades is to soak them in honey or syrup. Yet modern alternatives see them filled and topped with Bavarian cream, nutella, liquor, and a plethora of other sweet syrups.

Some restaurants and coffee shops serve loukoumades as a dessert or as a complimentary side to your coffee. There are many specialised loukoumade stores everywhere from Athens to Thessaloniki, and all of the little towns and villages in between.
You will typically find loukoumades sold in boxes of 12 or 24 or so. The dessert was prepared by chefs in Ottoman palaces centuries ago. It is believed to date back to at least the 13th century. 
Pancakes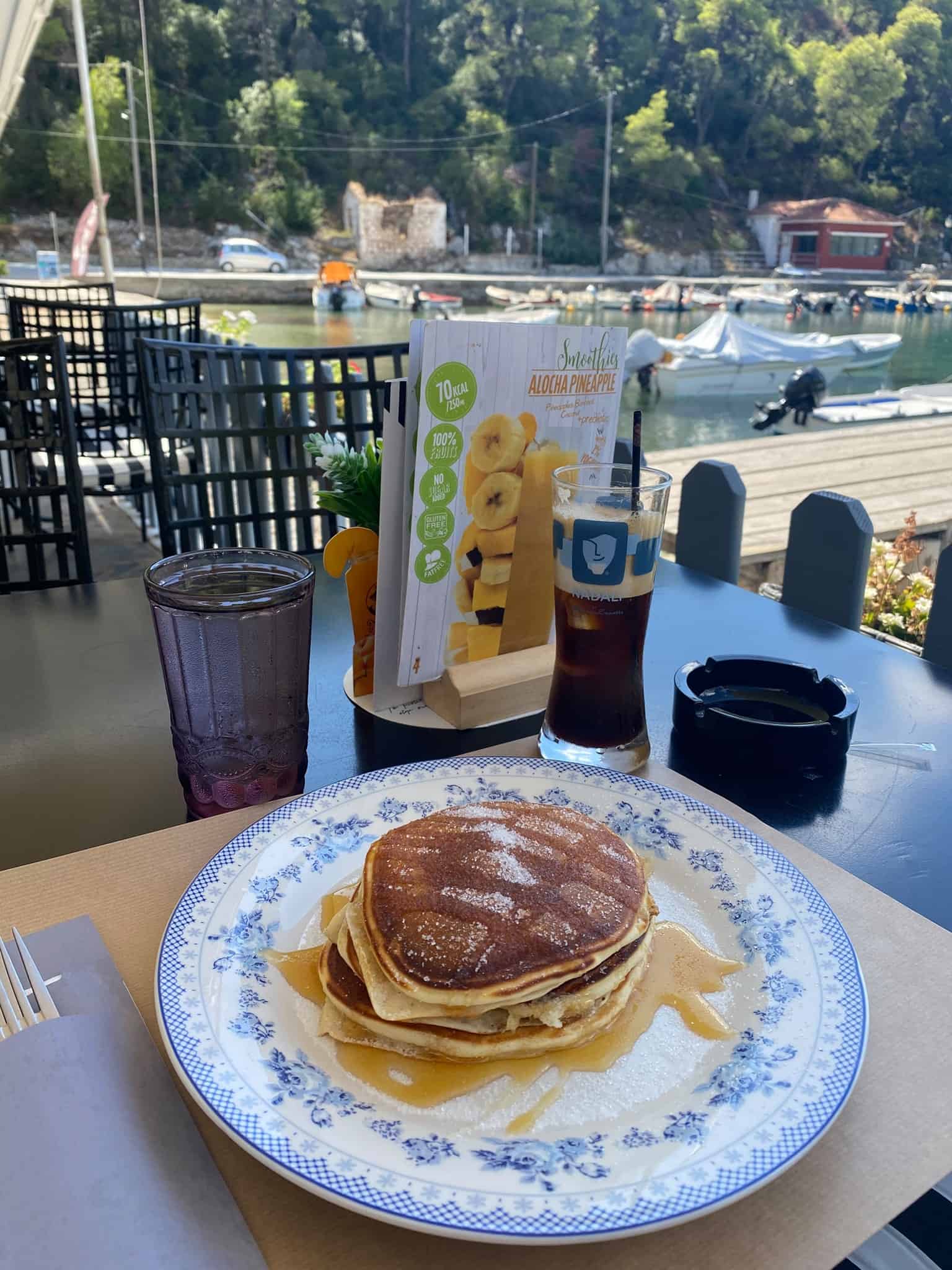 Heading out to a coffee shop and ordering a stack of fluffy pancakes alongside a cappuccino may not sound very Greek. However, the brunch trend is quickly, and surely catching on here.
Pancakes make an appearance on a lot of Greek cafe and coffee shop menus. They are usually prepared in quintessentially Hellenic ways too.
For instance, stacks of hot fluffy pancakes are drizzled in sweet, sticky pine honey from Nikiti village. A hearty dollop of Greek yoghurt may be added, along with a sprinkling of cinnamon and walnuts.
Kazan Dibi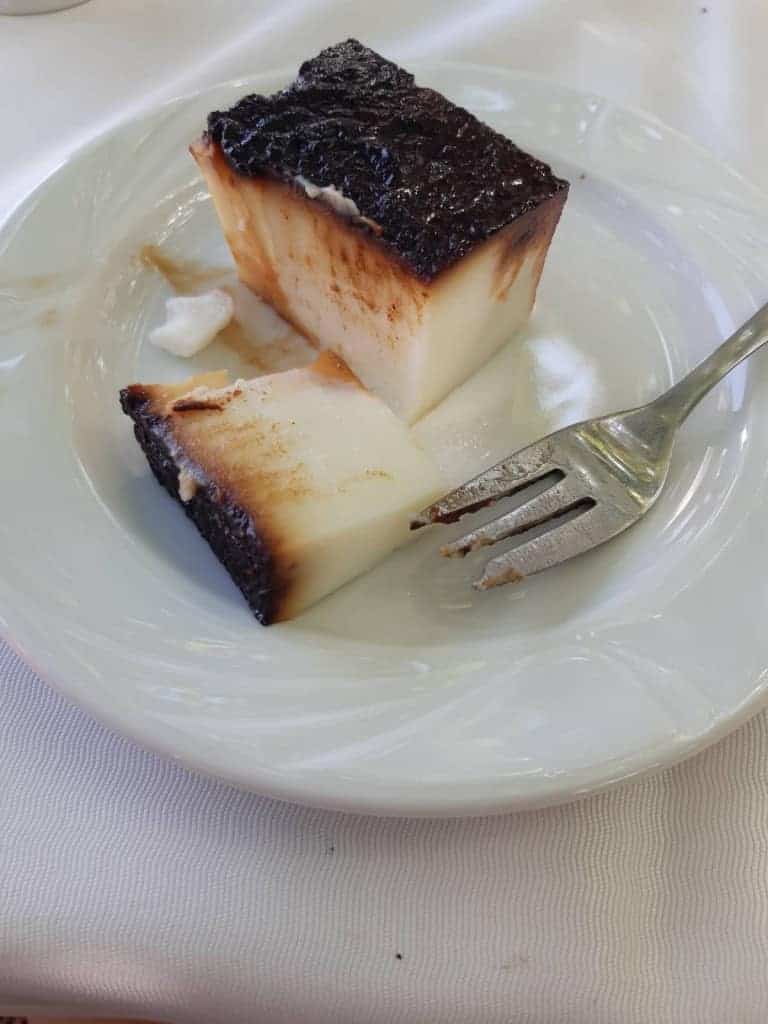 Kazan Dibi is an Ottoman-era dessert with a fascinating history behind it. You may be able to find kazan dibi all over the country. However, it is more commonly seen in Northern Greece, and the areas of Thessaly and Serres.

The name translates to meaning "bottom of the pan". It is made from buffalo milk and sugar.

It is said that centuries ago, the Ottoman Sultan demanded his chef create him a new dessert. The chef tried to create something using buffalo milk. However, he accidentally burnt the milk and saw it stick to the bottom of the pan. 
Not wanting to accept any punishment doled out by the Sultan, the chef acted as though the burned milk was intentional. To his surprise, the Sultan loved it! Thus, kazan dibi was born. 
Buffalo Ice Cream
Serres and the little villages around Kerkini Lake are the only places in Greece where water buffalo are farmed. Ice cream made from buffalo milk is popular in these areas. You will find many small bakeries and patisseries that make their own buffalo milk ice cream for just a couple of euros a cup.

Buffalo milk ice cream is much creamier than regular ice cream. It is also considered a somewhat "healthier" alternative as it is lower in fat. 
If you are not planning on visiting the Serres and Macedonia areas of Greece, don't fret. There are some artisanal gelato stores across Greece that sell rich, indulgent ice cream prepared with buffalo milk.
One such example is the popular "bufala gelato" store. There are bufala gelato branches in both Thessaloniki and the Athenian Riviera. 
Spoon Sweets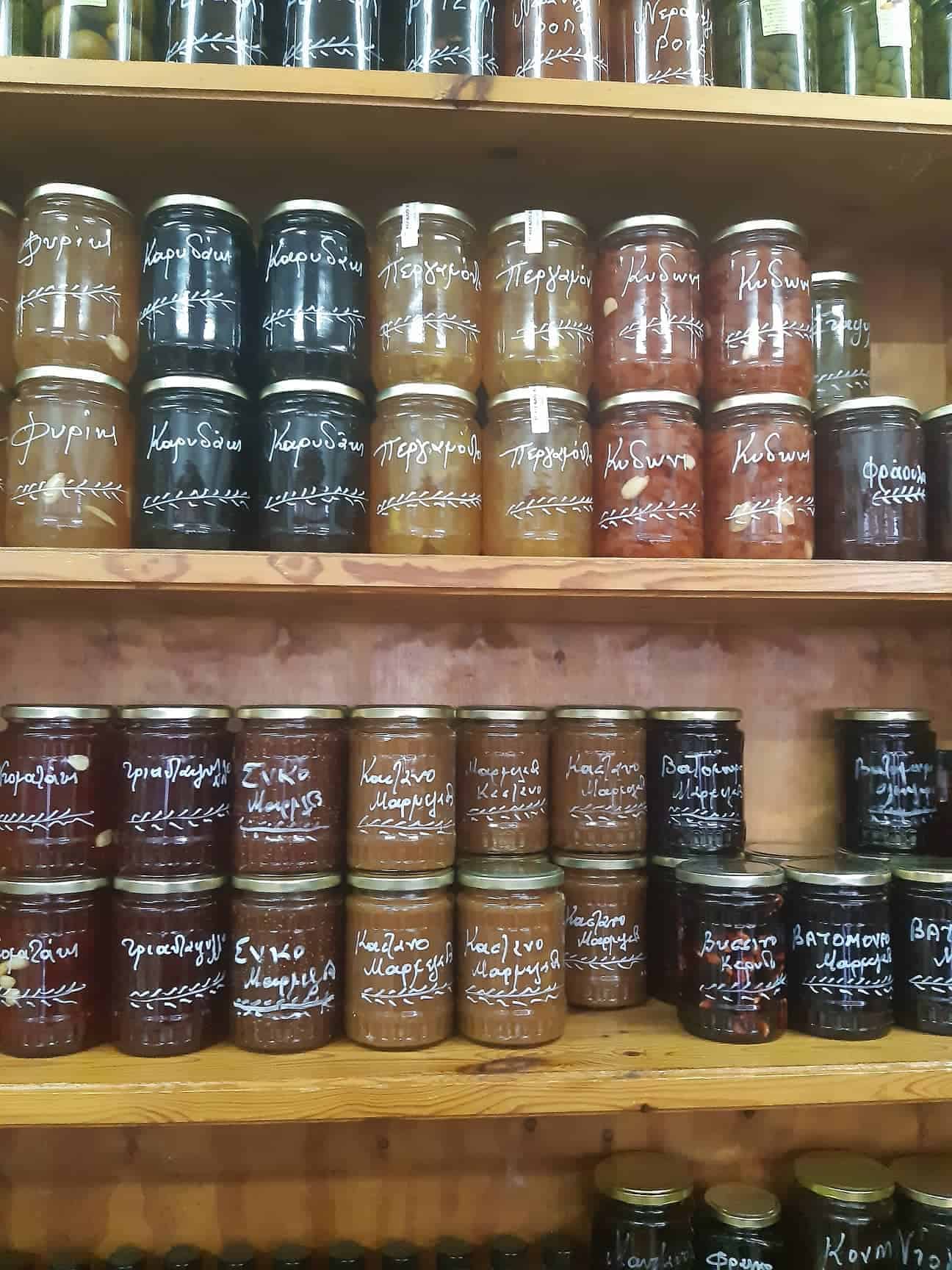 Spoon sweets are among the most popular complimentary Greek desserts that are served in tavernas and restaurants after meals. These are sweet preserved fruits that are preserved in sugar and fruit juice for a matter of months.

Commonly, spoon sweets are served with Greek yoghurt at the end of a meal. They come in a plethora of varieties – from grapes and figs, to oranges.

You will find many Greek delicatessen stores across the country selling jars of spoon sweets that you can take home as a charming edible souvenir. In traditional areas like Karpenisi, you may even have the opportunity to see Greek yiayias preparing them. 
Amygdalota (Greek almond cookies)
Amygdalota are chewy Greek almond cookies that originated in the Cyclades. They are sometimes referred to as Greek macaroons, though they do not actually contain any coconut.
So, if you stop by a bakery on your trip to Naxos, Santorini, Mykonos, or any other Greek island, you may be lucky enough to find stacks of delicious amygdalota piled behind the glass counters. You can also find these biscuits outside of the Cyclades, on occasion.

Sometimes, they are given different names in different regions of the country. Similarly, each bakery may follow a slightly different recipe or create their amygdalota in different shapes.
Mandolato/Greek Nougat
You will find Greek nougat (mandolato) sold in bars in supermarkets, delicatessens and bakeries across Greece. However, there are also places that prepare their own fresh, homemade nougat.
Nougat can be found across the world, although no two countries prepare it the same way. Greek mandolato nougat is traditionally prepared with a light meringue base that is enriched with honey, sugar, and almonds.

Some say that the best Greek nougat is found in the Ionian islands. However, this can be found everywhere – from Skopelos to Athens and beyond.
Mini Chocolate Ice Creams 
When summer time arrives in Greece, ice cream is a popular refreshing sweet treat – just like anywhere else in the world. However instead of buying the prepackaged tubs of ice cream, head to one of the local patisseries.

You will find that many patisseries across the country prepare tiny little chocolates filled with ice cream. You will find them in glass shelved refrigerators within the bakery. They are impossible to miss.

Some have little sticks attached to them and are like little Magnum-style ice cream sticks. Others are simply chocolates filled with ice cream instead of truffle, pralines, and other chocolate fillings. You can buy a box of these for just a few euros. 
Baklava 
Baklava is a sweet, syrupy, sticky Greek dessert that is popular across Southern Europe and the Middle East. The dessert is created by stacking layers of phyllo pastry on top of each other and affixing them together with syrup and nuts. 
Baklava is then often flavoured in different ways. Cinnamon, honey, orange zest, or lemon juice are just a few of the popular additions that are often drizzled over the top. You will find shelves upon shelves of all different kinds of baklava in Greek bakeries. 
Loukoumi (Greek Delight) 
Loukoumi is the Greek version of Turkish delight. Essentially it is "Greek Delight".

The little jelly-like sweets are made of water, sugar and starch. They are then topped with a mountain of icing sugar. 
Loukoumi comes in a variety of different flavours. You can buy mixed boxes of it from Greek supermarkets and sweet shops. However, the rose flavour remains a national favourite.

This little treat is not so popular today as it once was. However if you go to traditional kafenios and order yourself a strong Greek coffee, you will often be served with a small plate of loukoumi alongside your drink.

Nobody is entirely certain when the treat was initially invented and by whom. One of the most popular theories is that confectioner Haci Bekir created it in Istanbul in 1777.
Bougatsa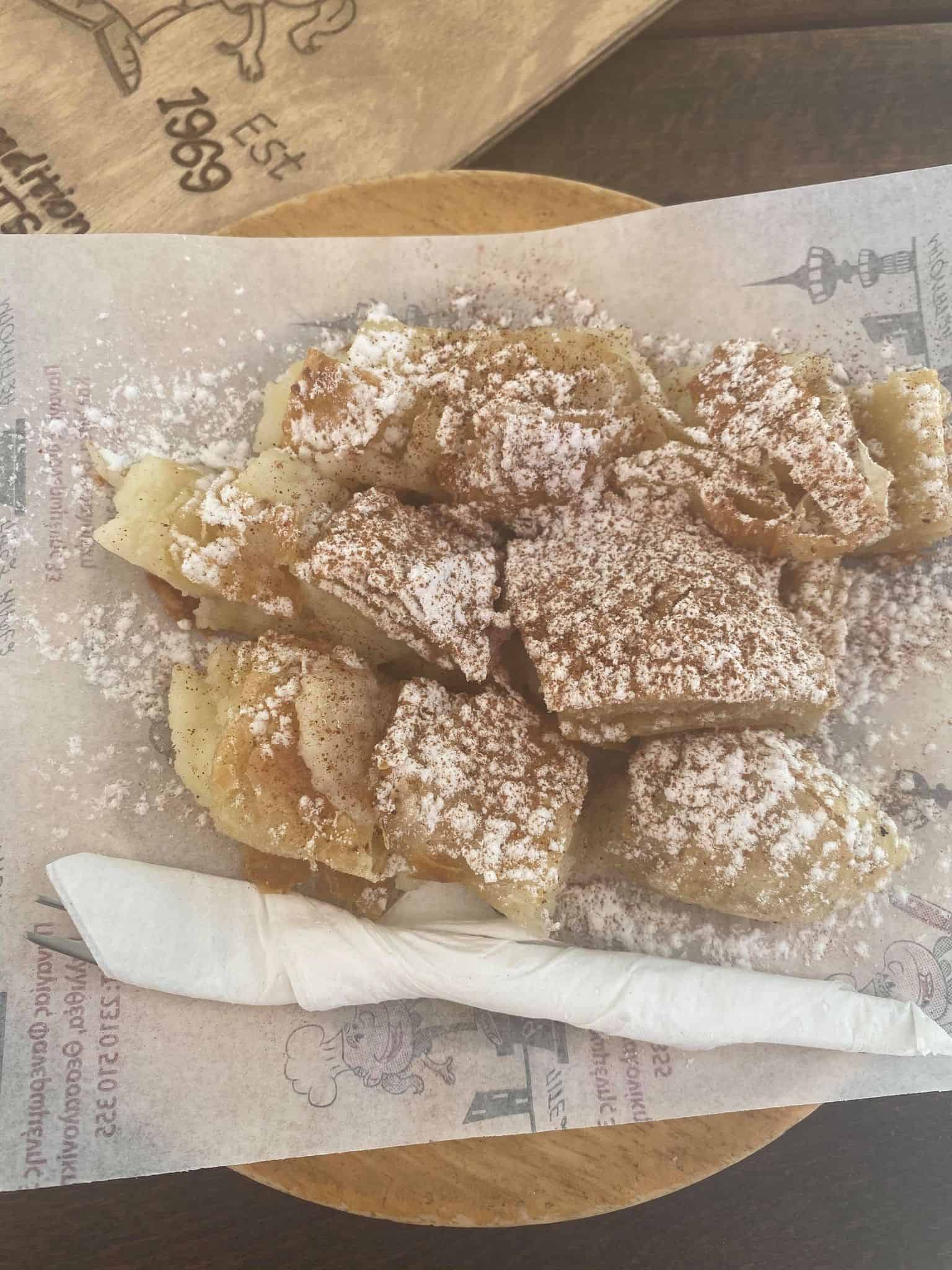 Bougatsa is a sweet Greek phyllo pastry. It is most commonly enjoyed as a breakfast treat rather than as a dessert. However, there is no harm in treating yourself to a hearty slab of bougatsa and a Freddo espresso, whatever time of day it is.

Greek bougatsa originated in Thessaloniki but today you can find it all over the country. The sweet version consists of semolina custard wrapped in phyllo pastry layers and topped with cinnamon and/or icing sugar.

Savoury versions of bougatsa also exist. You can find savoury bougatsa filled with cheeses and minced meats.
Galaktoboureko  
In some ways, galaktoboureko is very similar to bougatsa. The dessert has Ottoman origins and is especially popular in the Evritania region of Central Greece.

Galaktoboureko means "milk borek". It consists of baked semolina custard that is wrapped in layers of phyllo pastry and then drizzled with a sweet syrup. 
Kourabiedes 
Kourabiedes are Greek almond cookies that are particularly popular during Christmas time. The ingredients that they contain are quite simple. Kourabiedes are made with butter, flour, sugar, almonds, and a dash of ouzo for an extra kick.

The biscuits are then topped with mountains of icing sugar. Today you can find many variations of kourabiedes in Greek stores and bakeries. For instance, kourabiedes with peanut butter and peanuts, cocoa kourabiedes and so on. 
Melomakarona 
Melomakarona cookies, along with kourabiedes, are the essential Greek Christmas treat. From December, virtually every bakery across the country comes alive with the scent of nutmeg and the smell of homemade, honey-glazed melomakarona.

These little biscuits are small and oval-shaped. They are made with flour and semolina, and flavoured with oranges, orange zest, cinnamon, cloves, and brandy. 
Homemade Greek Ice Cream
Italy may be the country that is synonymous with fine ice cream and artisanal gelato. However, Greece too has its share of gelaterias and exquisite ice cream stores.

Ice cream stores in Athens, Thessaloniki, the Cyclades and beyond serve fresh ice cream treats in a diverse array of flavours. Ice creams can be purchased by the cone, or by the cup and are prepared using only the highest quality, locally-sourced Greek ingredients.

There are also some variations of ice cream that you can find here that you will find "only in Greece". For instance, ice cream prepared with mastiha – the resin of the Chios mastic tree, ice creams made with olive oil, and ice creams made with salep. 
Diples 
Diples are one of the most popular Greek desserts to enjoy during the winter time in Greece. They originate from the Peloponnese, yet can be found nationwide. 

These are essentially folded pieces of dough that are fried before being covered in honey, cinnamon, and chopped walnuts. The word "diples" means "fold" in Greece – a fitting name for this Greek dessert. 
Halva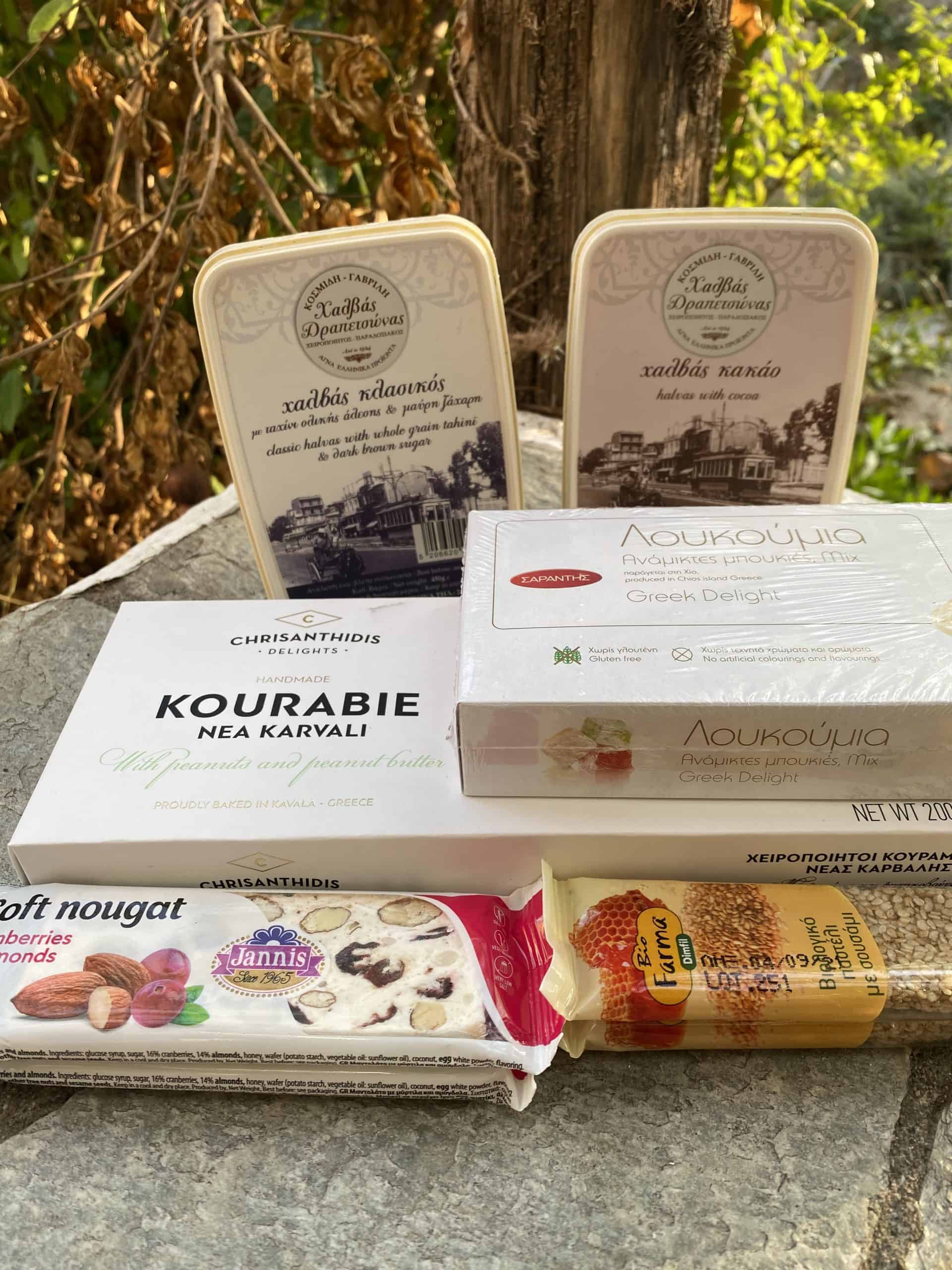 Greek halva is a sweet dessert that is available in two variations. Confusingly, the two desserts are rather different.

One version is a sweet semolina pudding that has something of a moist, cake-like consistency. The other is made from tahini and has a dry, crumbly texture. You will sometimes see halva served as a complimentary dessert in tavernas across the country but it is not so common.

You can buy the dry, tahini version of halva at Greek supermarkets. There are also a number of vendors at the Central Agora in Athens that sell halva by the slice in a range of different flavours. 
If you have travelled a lot, you may have seen halva elsewhere. It is a popular dessert across the Middle East, the Balkans, Southern Europe, and Central Asia. 
Karithopita (spiced walnut cake)
Greek karithopita is a light, sweet walnut cake with a fluffy consistency. The cake is made using galeta breadcrumbs as opposed to flour. It is then flavoured with cinnamon and cloves.

This is another Greek dessert that is popular during the winter time. Traditionally, it is served with a dollop of Greek yoghurt on the side. It is also sometimes served with fresh vanilla ice cream. 
Pies and Cream Cakes 
Bakeries and patisseries can be found on practically every street corner in Greece. Some of the treats that they serve are very typical. For instance, milk pies and Greek handmade ice cream. However, you will also find cream cakes, cream horns, chocolate-stuffed croissants, and other treats that you will see across Europe.

One dessert to look out for is Sokolatopita. This is a chocolate pie that is draped in sticky, sinful chocolate ganache. 
Greek Rice Pudding 
"Rizogalo" is the name for Greek rice pudding. It is a rich and creamy treat found in bakeries and patisseries nationwide.

In Greek, "rizi" means rice, and "gala" means milk – ergo, rice pudding. Like western rice pudding, rizogalo can be enjoyed hot or cold. This treat is usually flavoured with cinnamon and vanilla. 
Crepes and Waffles 
Crepes and waffles have been something of a dessert craze in Greece in recent years. You will find an abundance of waffle houses and creparies virtually everywhere you go – from Vouliagmeni to Parga.

Crepes and waffles can be enjoyed with various fillings and sides. In Athens and Thessaloniki, you can even find numerous places that will deliver them to you, night or day. 
Milk Pie (Galatopita) 
Galatopita or "milk pie" is another sweet Greek pastry that is prepared with semolina custard. However, it is noticeably different to say, bougatsa.

Galatopita is typically prepared with thinner layers and smaller amounts of phyllo pastry. The phyllo pastry in galatopita more resembles a typical pie crust. 
Kataifi 
You will often see rows and rows of kataifi behind the glass windows of Greek bakeries besides baklava. This dessert is made from shredded phyllo pastry and has an appearance (and consistency) that resembles that of vermicelli noodles.

Kataifi shares some similarities with baklava. Both Greek desserts are filled with chopped walnuts and drenched in sweet, sticky syrups and honeys.

Numerous variations of kataifi are available. This dessert is popular in Greece, Turkey, and several Middle Eastern nations.
Parting Words 
I hope you enjoyed reading this article on Greek desserts! I've lived in Pagrati, Athens for almost four years now. 
I am happy to help with you if you have any questions about planning a Greece holiday. Please don't hesitate to reach out to me via the comments below. 
Safe travels! Geia sou! Melissa xo 
---